Top 10 Task Management Software For Small Businesses – 2023
So, you're looking for the right task management system for your small business. We understand it could be challenging to find the perfect tools that align well with your business needs, culture, and budget. You probably have tried a few and are not happy with the way they work.
Whether or not you want to implement a task management tool for the first time, you're likely to get overwhelmed and end up buying something that doesn't resonate with your business.
What is the best task management software for small teams?
Therefore, we decided to come up with a post that will help you choose the perfect task management software for small business and resolve your productivity, collaboration, and communication-related challenges once and for all.
A small business involves fewer people and processes. Why do you need task management software in the first place? Unlike large corporations, small businesses usually have a manager that oversees almost every department. This could seriously impact a manager's output when they wear lots of hats.
Task management software can help small team managers keep things organized while improving operational efficiency and the quality of collaboration. Let's find out what task management software would be ideal for your small business settings.
Before we do so, let's quickly define what task management software really is and what factors you should consider when choosing among the available options.
Remote work is here to stay, but most times it leads to disaster for the business. Find out what it takes to manage teams virtually and get results…
(continue reading)
What is task management software?
Simply put, it is organization software for small businesses. It's an application that helps you create, manage, prioritize, and streamline tasks. It makes your small team more confident in their daily to-dos and enables them to focus on the right task at the right time.
Now, it all sounds similar to project management software. Doesn't it?
Many people often use the term 'task management software and 'project management software' interchangeably because both share some similarities. However, there's a difference between a task and project management platform.
Project management is when you work with a bigger picture and track elements like costs, HR, planning, execution, monitoring, etc. Task management, on the other hand, is about managing tasks from creation to completion. For example, you create a task, set a deadline, assign it to a team member, and set its priority.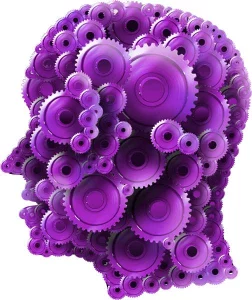 Factors to consider when choosing a task management tool for your small business
Every business is different. So do their task management needs. However, a comprehensive task management platform can offer everything you need to get things done with great efficiency and ease.
The following are some key factors you must consider when evaluating and picking a task management system:
1. Ease of use
Imagine you're using task management software which is complex and requires a steep learning curve. Task management software is supposed to make things easier for your team and not vice versa.
So, be sure to select a platform that requires the smallest learning curve when compared to other tools. Go with software that comes with an intuitive, fast-to-load interface. Besides, strong user and tech support, training, and tutorials will further simplify things for your teams.
2. Task management features
A task management tool should help you divide work into smaller, more manageable tasks. Almost every task management tool has these basic features such as task creation, scheduling, priority, and tracking. However, you need to choose a system that suits your business operations.
3. Collaboration & communication
Not all task management tools offer collaboration and communication capabilities. Nevertheless, these are critical features that enable your team and clients to communicate on the go all in one place.
Lack of communication and collaboration leads businesses, both small and large, to face low productivity and contradictions within teams. When you deploy a work management system with strong communication features, it helps you keep everyone on the same page.
4. Automation capabilities
Automation has become a vital part of modern business processes. Task automation is when a task is moved automatically throughout a process and streamlines things for everyone involved. This leads to a reduced amount of work and faster completion of tasks.
An increasing number of small businesses now prefer to apply task automation to simplify workflow and save time. Task management software with automation will help your team prioritize important tasks instead of wasting time on mundane tasks.
5. Tracking
You need to keep track of everything happening within your business. Don't you? You can't do it effectively without a tool.
A robust task management platform will enable you to track important activities based on their priority or urgency. Project planning becomes so much easier with easy task tracking.
6. Cost
Small businesses often have limited budgets to invest in work management and productivity tools. As a small business owner, you might not be able to spend hundreds of dollars on a task management tool. Choose a system that is both affordable and has the necessary features.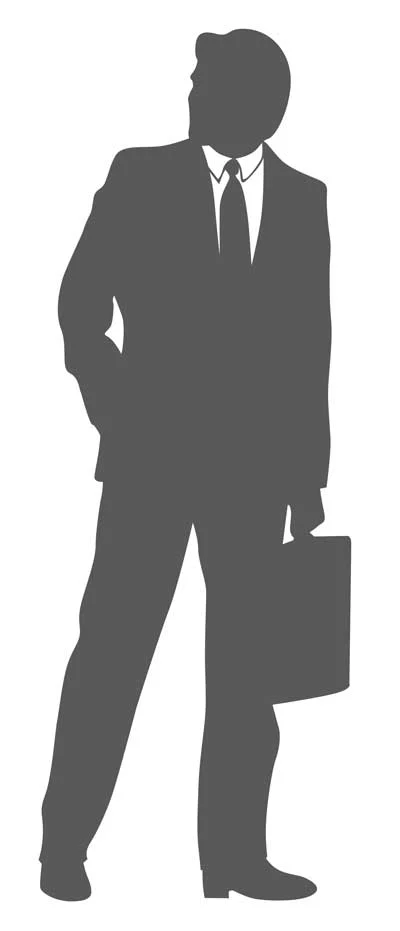 Top 10 Task Management Software For Small Businesses
We've just highlighted some of the must-have features that a good task management system must include. Now let's take a look at some of the most popular task management software with Global Office Data Hub leading the chart:
GODH
Monday.com
ClickUp
Asana
Wrike
Smartsheet
Taskworld
Proofhub
HubSpot Task Management
TaskQue
* Zoho Projects
(notable mention)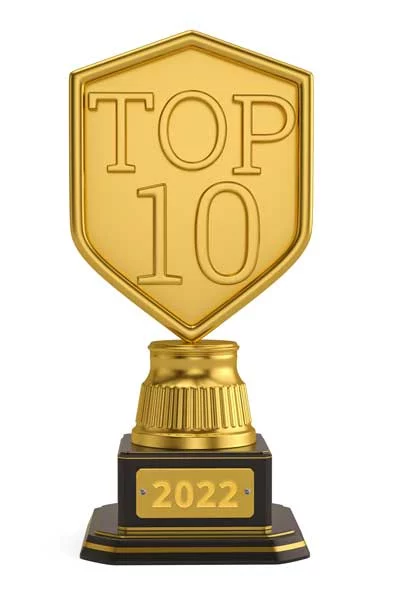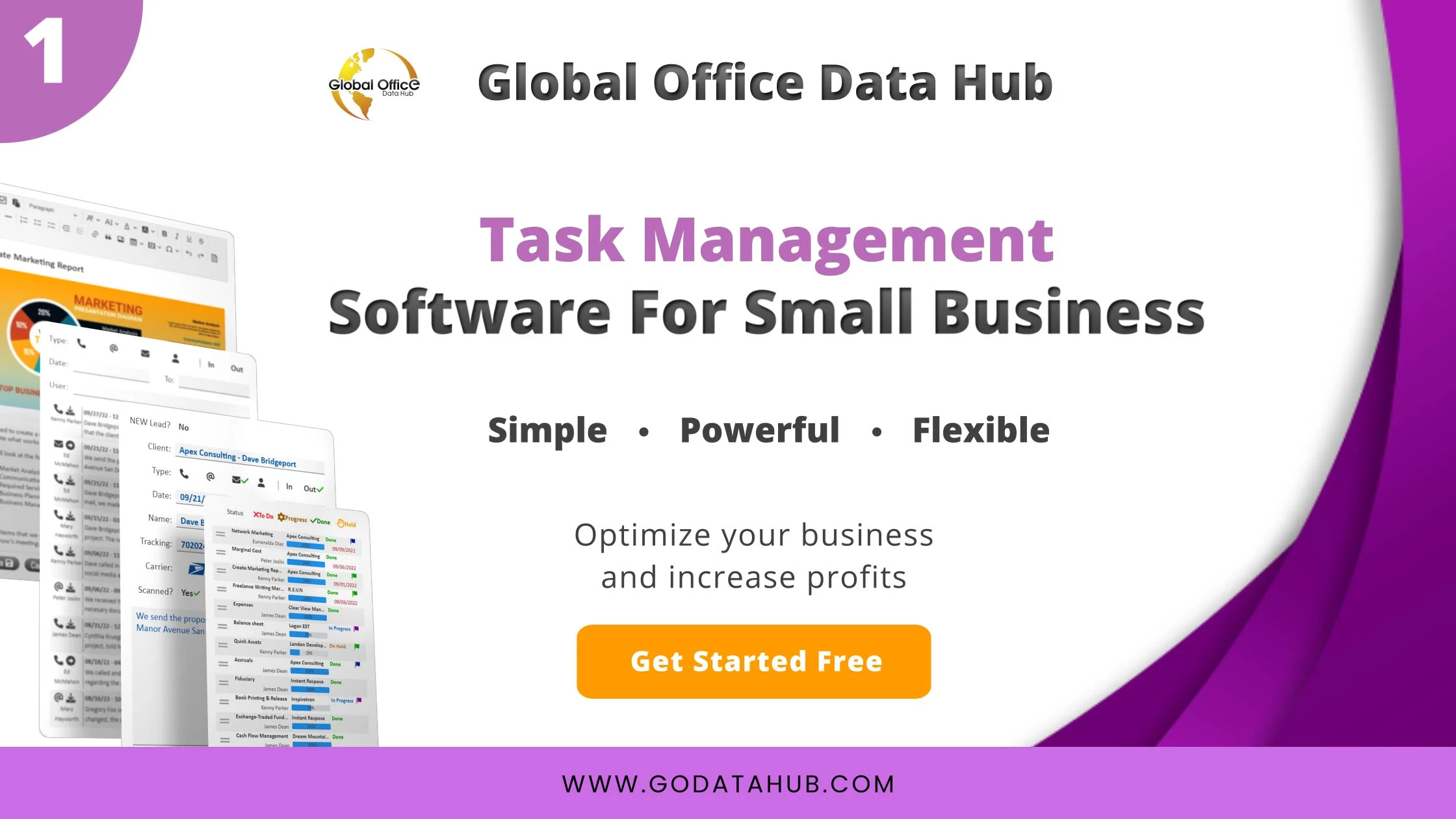 Global Office Data Hub is at the top of our list because it is a comprehensive software that covers every aspect of task management.
The reason that tasks are easier to track in Global Office Data Hub is due to the proprietary search functionality that is true power at your fingerprints allowing you to conduct broad searches such as what member of a team has what jobs in what status, to the most granular criteria such as searching a task by date range, titles, client.
Another useful but simple task management feature is the ability to parent tasks. Many times a task will need sub-tasks to get the main task finished. For example, processing a client application may require a client interview before the main application can be finished.
However, the interview requires that you get the client's paperwork first, process it and then schedule the actual interview. With Global Office Data Hub, this is not only easy to set up but you can also delegate the process while still keeping track of everything.
Tasks don't live in a vacuum. Anyone running a business knows that tasks are connected to communications between your team members and the customers. In short, every "to do" is likely started as a communication and is accomplished through communication.
GODH includes this as default in its package. Being able to keep track of the communication regardless of the method (phone email mail), and then meticulously track HOW that item is getting done is what drives results and productivity for a team.
You can also use it for time tracking and managing projects, team members and team collaboration.
GODH is also extremely simple to use, having the easiest learning curve of all the other solutions. Add to this the fact that it costs much lower than other solutions. It also offers features that in competitive solutions the user must pay extra or upgrade.
Pros
Collaboration & communication tools
Reporting/project tracking
Affordable plans
Free trial
Documentation
Easy to use
Pricing
Professional: $27 per month up to 5 users
Premium: $49 per month up to 20 users
Enterprise: Contact GODH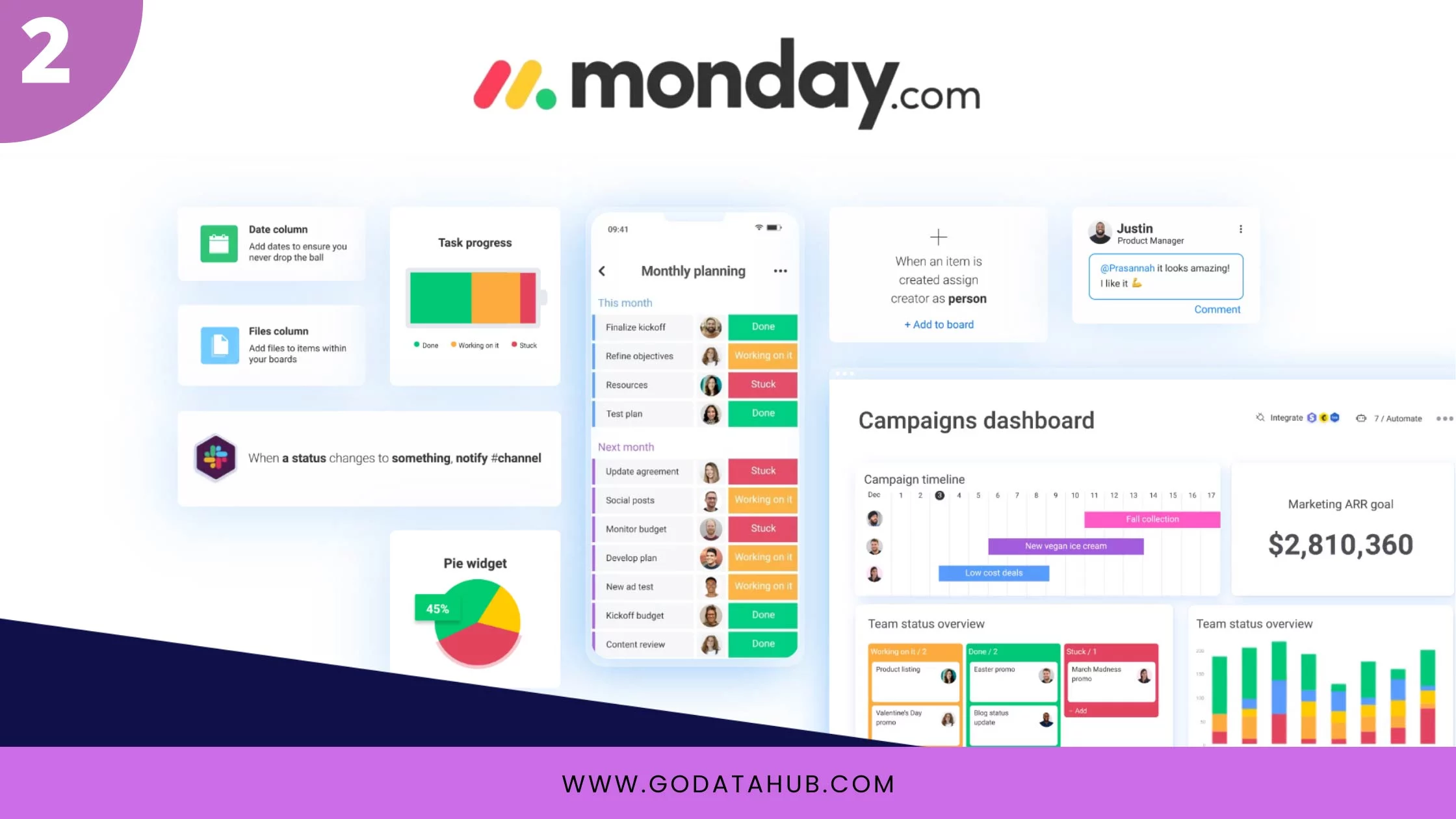 You'll see Monday.com on almost every article on the internet that talks about top task management tools. It is surely a good tool that offers plenty of valuable features: time tracking, automation, reporting, etc. However, Monday.com doesn't make it at the top of our list because of its limitations and disadvantages.
For example, limited task dependencies, slow support, and certain limitations with their plans. You can get tasks done in an order with Monday.com. However, there's little room for customization beyond that feature.
The tool does offer dependencies for the top two tiers. But these tiers are pretty much inaccessible for small business owners because of their tight budgets. If you can afford to spend too much money on a task management tool, Monday.com might be a good option.
However, it doesn't make sense for small teams to implement such a system when they can fulfill their task management needs with more affordable software such as GODH. For instance, you don't have access to Gantt charts and calendar views in their basic plan which costs $24 per month.
You also don't get automation, private boards, time tracking, and dependencies on the entry-level plan. If you choose an alternative like GODH, you get these standard features without paying extra.
If we talk about support quality, Monday.com offers 24/7 support, but many users aren't happy with their slow response time. Whatever tool you use for your small business, you should be able to get quick responses through live chat or call. You can't wait for hours to get a problem fixed.
Here are some pros and cons of Monday.com:
Pros
Supports long-term planning
Interactive progress management
Integratable
Cons
Lack of customer support
Learning curve
Many unwanted emails
Pricing
Basic plan: Starting at $10/per user/month
Pro plan: Starting at $20/per user/month
Enterprise: You have to contact Monday.com for enterprise pricing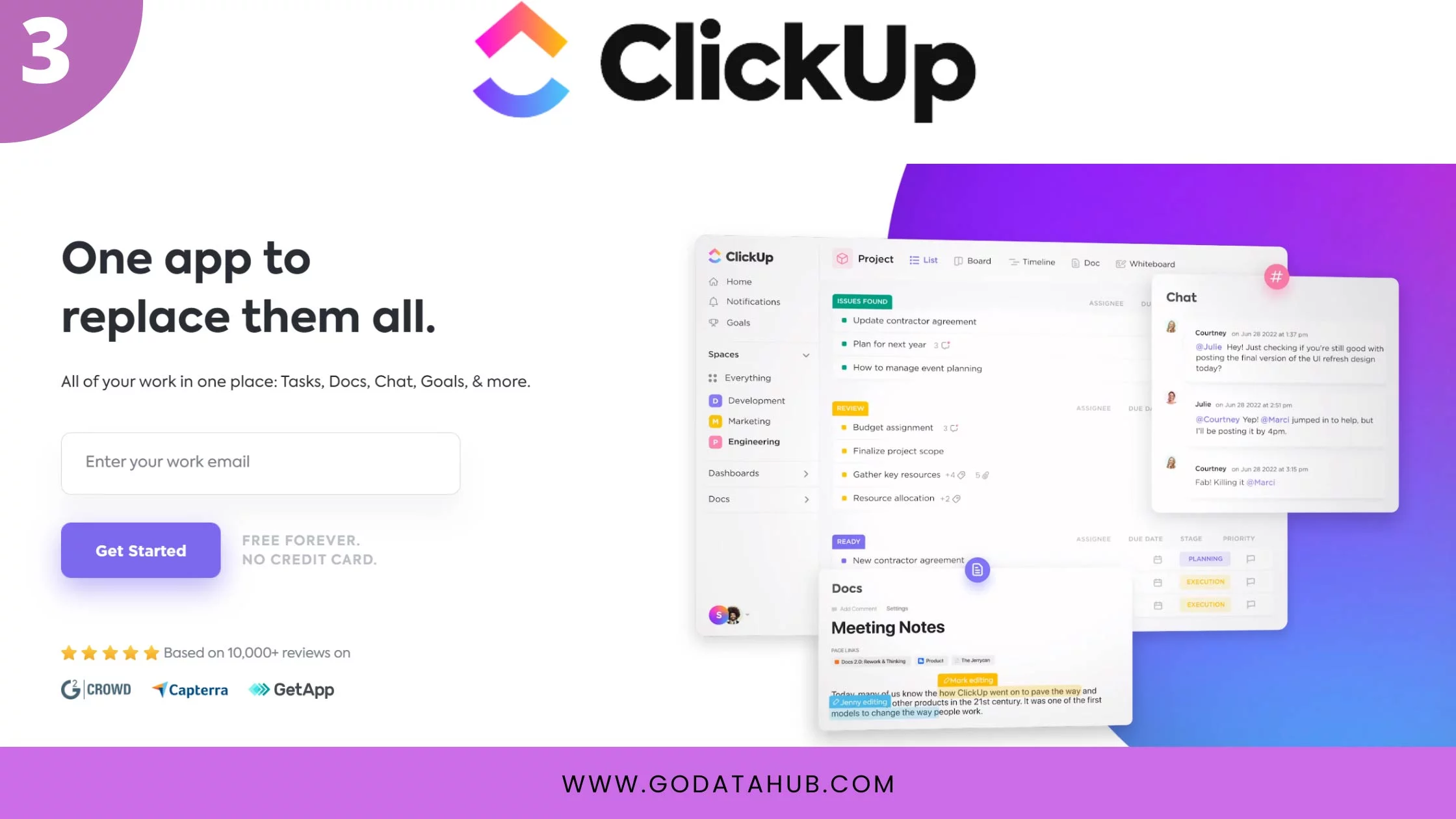 The next on our list is ClickUp which allows you to view your tasks using 11 different ways such as workload, timeline, and mind map no matter which plan you use. ClickUp is not only customizable but also allows users to design their own dashboards with desired gadgets and features.
However, customization demands plenty of your team's time. As a small business, you don't need your team to waste time on customization. One of the common cons of ClickUp is that it involves a steep learning curve. The software does offer a variety of features but things get complicated when you initially deploy ClickUp for your task management needs.
If we compare ClickUp with GODH, the former is a lot easier to use and intuitive. Small text size and faint colors negatively impact the UI of ClickUp. If a team wants to take advantage of the high flexibility of ClickUp, they have to go through a systematic way of implementation.
As a small business manager, you need to get things done quickly without wasting time and effort on understanding a management system. You can't afford to let your team get a significant amount of training before they take advantage of a tool's features.
The onboarding process is also pretty lengthy and intimidating. Users have to provide plenty of information before getting started on ClickUp.
Pros
Customization capabilities
Team communication and collaboration
Cons
Steep learning curve
Overwhelming onboarding process
Pricing
Unlimited: $9 user/month when billed monthly
Business: $19 user/month when billed monthly
Enterprise: Contact their sales for pricing
Asana is also one of the most popular task and project management software that gives businesses considerable control over how they organize their work. While Asana's interface is visually appealing and intuitive, you can assign tasks to multiple projects with the freedom to create an unlimited number of subtasks.
Asana comes with a free Android and iOS mobile app that can be used regardless of your plan. However, the app is not an easy-to-use platform. In other words, the mobile app doesn't justify the goodness of Asana. As a user, getting something done using the m mobile app can be a challenging task.
Another disadvantage of Asana is the inability to assign tasks to multiple users. You probably have a task that you want to assign to more than workers. Unfortunately, you can't do this using Asana.
However, you can add a task collaborator or bring more people in on a task using subtasks. You may be able to create copies of tasks for your different users but a task will only have one main assignee.
While Asana is overall a good task management platform, the emails you get from Asana's team can make your inbox pretty noisy. You have the freedom to control email notification settings but it can be annoying initially.
Pros
Multiple project views
Team collaboration
Integrations
Cons
No option to assign tasks to multiple users
Email clutter
Expensive
Pricing
Asana Premium: $10.99/user/month
Asana Business: $24/user/month
Asana Enterprise: On application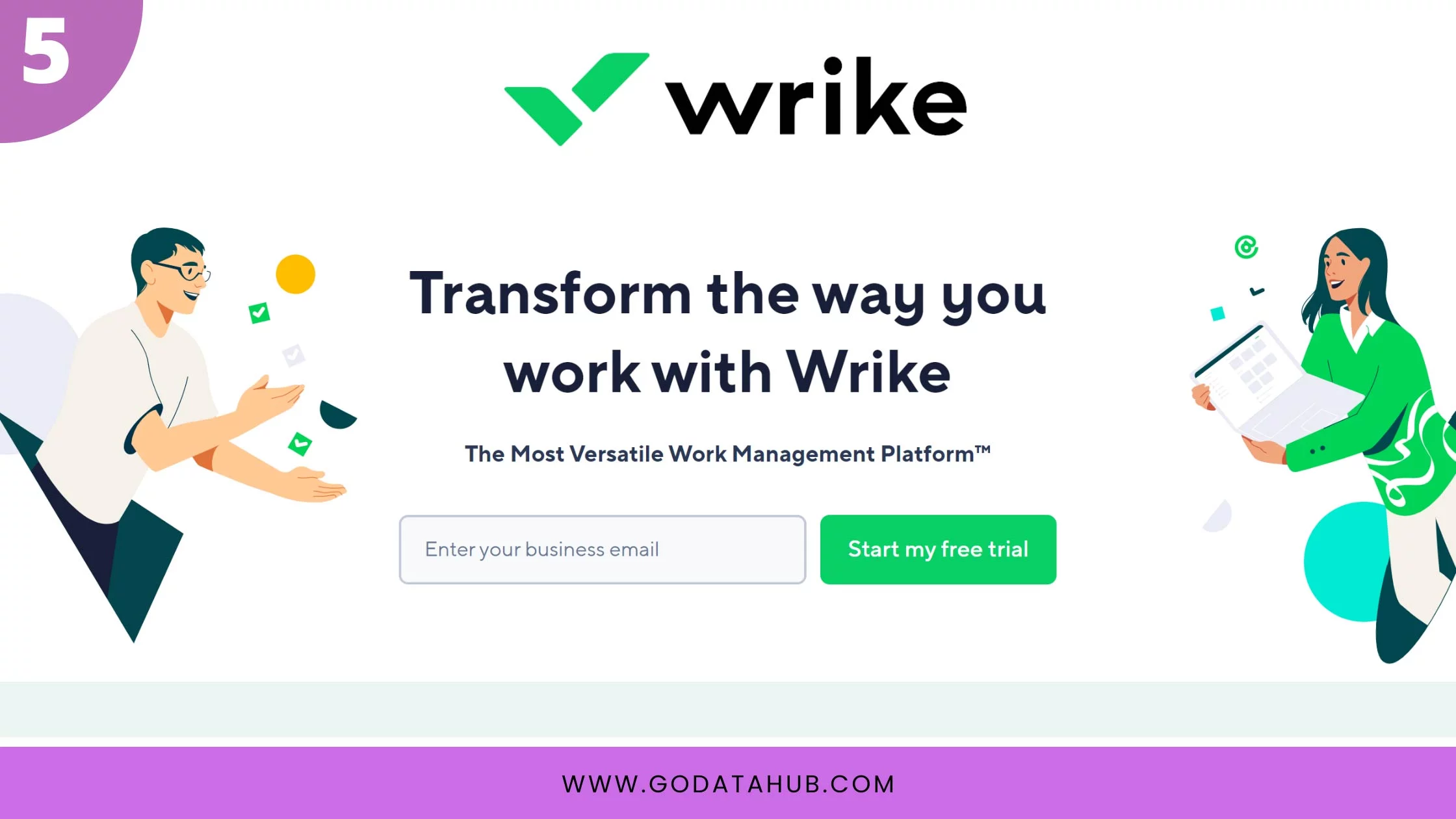 If a business needs project management software with in-built email integration, Wrike may be a good voice. Wrike enables users to connect their inbox activity to its app. So far as task management is concerned, users can create new tasks, assign and schedule tasks, and define tasks in terms of priority.
Wrike is more suitable for marketing teams and service providers. However, businesses need to pay a high price to unlock and get access to all of Wrike's useful features. If we talk about the cons of Wrike, one of them would be the complexity.
Wrike is not a recommended task management software for beginners as it overwhelms users with its initial setup, onboarding process, and enterprise-level features. Wrike provides companies with training to help them get started, but most small businesses don't want to waste time on a task management tool that is supposed to save time and simplify their work processes.
Wrike offers limited mobile functionality as its Android and iOS app is not user-friendly and productivity-driven when compared to more robust task management software such as GODH. We understand how inconvenient it could be to manage tasks on a not-so-efficient task management app.
You don't want a task management app that doesn't allow you to edit or move a task. However, Wrike's desktop version is comparatively sound. As a small business, you might not like Wrike considering its cost.
While Wrike can address some of your task management challenges, lots of its advanced features and add-ons are expensive. Adding all of Wrike's features to your cart can dramatically increase your task management costs.
Pros
Enterprise-level functionality
Real-time analytics
Automated workflows
Cons
Overwhelming for beginners
Limited mobile functionality
Expensive
Pricing
Free
Professional: $9.80/user/month
Business: $34.80/user/month
Enterprise: Contact Wrike for details!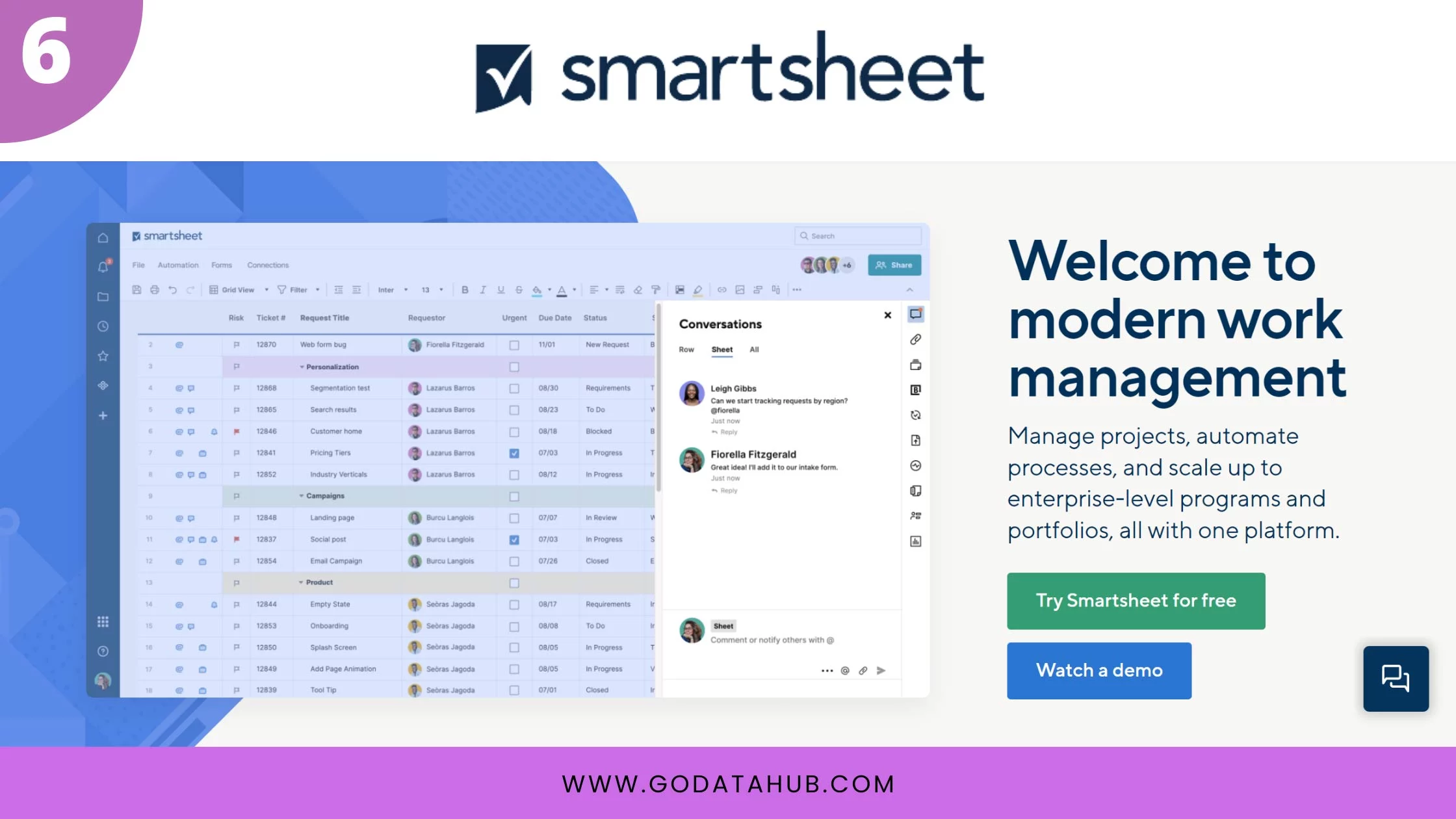 If you're fond of spreadsheets, you might like the idea of using Smartsheet as your task management tool. Smartsheet allows you to manage multiple projects no matter the size of your business. It helps you improve collaboration and workflows.
However, Smartsheet isn't an easy-to-use software. Smartsheet could be a good fit for your team, but you need to fully understand the initial struggle and cost.
While the majority of working people are familiar with spreadsheets, Smartsheet has a steep learning curve that makes it difficult for small businesses to invest time and resources in the learning process. The interface of Smartsheet isn't intuitive and user-friendly. While platforms like GODH focus on simplifying task management for small teams, Smartsheet makes it challenging.
With Smartsheet, you can't analyze reports and charts at-a-glance. Besides, limited activity log functionality makes it difficult to get a quick overview of what's happening. If your team wants to use Kanban boards and needs an agile project management tool, Smartsheet wouldn't be of great help.
In case you hate spreadsheets and don't want to use them to run your small business, don't consider Smartsheet. However, Smartsheet can be a great choice for larger teams.
Pros
Team collaboration tools
Management dashboard
Cons
Not-so-friendly interface
Bulky/clunky
Steep learning curve
Pricing
Free: 1 user
Pro: $7 per user/month
Business: $25 per user/month
Enterprise: Contact Smartsheet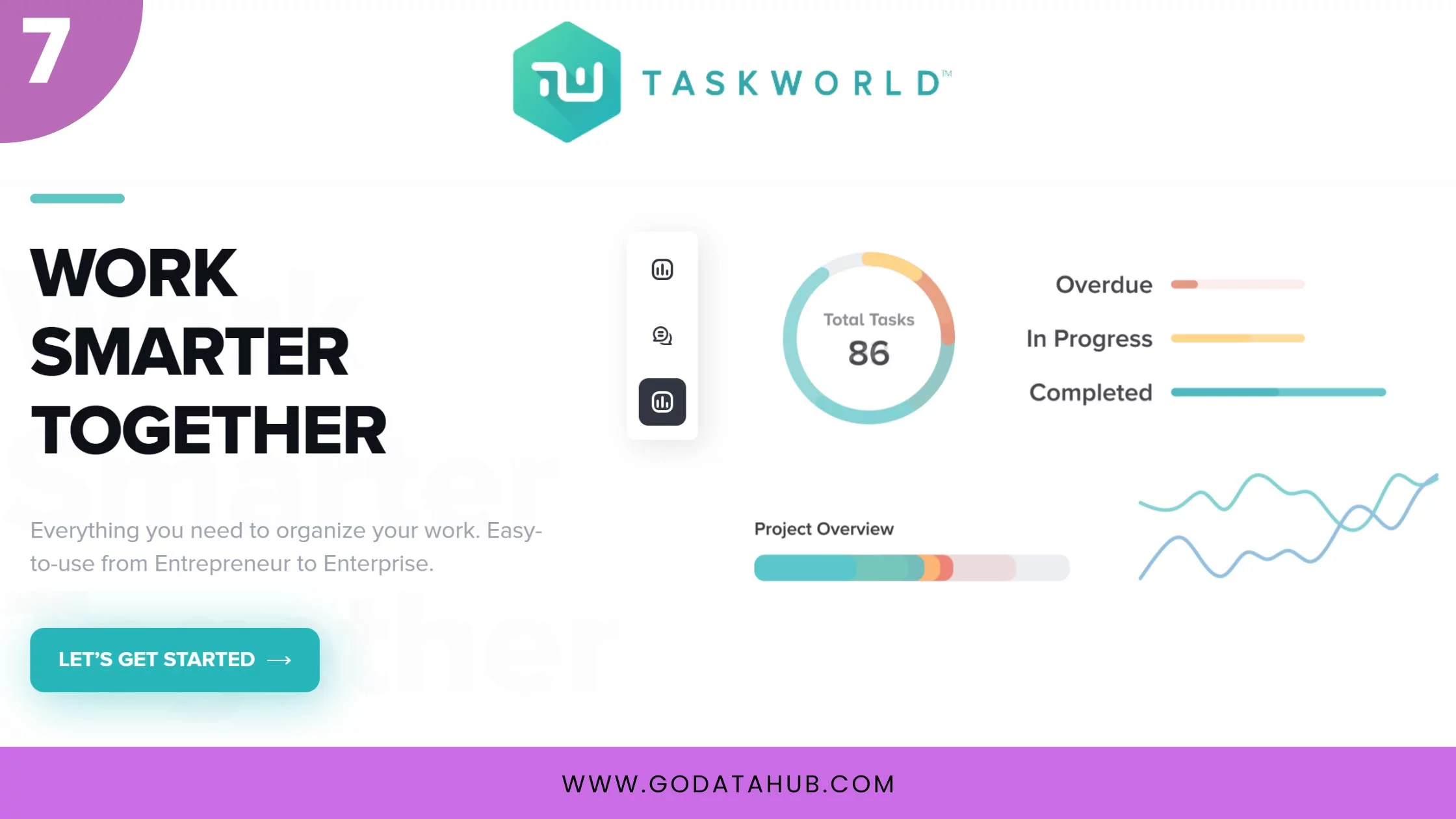 Taskworld is a well-designed task management software that offers a variety of features and functionality. But you have to pay some pretty steep prices to take advantage of those features. The good thing about Taskworld is that it allows you to get an overview of what your small team is up to.
However, it might not be a good idea to buy a work management software like Taskworld to run small teams. You can easily get similar functionality and features for much less. For example, GODH is a perfect solution for a small business that requires a feature-rich task manager at a low price.
While many organizations like the features and usability of Taskworld, others don't want to pay a hefty price. Tools like GODH have roughly the same features but are priced a lot lower. In this situation, it becomes really tough to recommend Taskworld to small businesses that are looking to reduce their production costs.
Even if you're willing to pay higher for task management software, there are other options like Asana that offer better functionality and features.
Pros
Project checklists
Easy-to-track task management
Cons
Limited app integration
Complex UI
Frequent small glitches
Pricing
Free: up to 15 users
Premium: $8 per user/month
Business: $15 per user/month
If you're looking for an all-in-one task management and project management app, Proofhub could be a good choice. Proofhub has all the features you need to keep your tasks, teams, projects, and communication streamlined. The communication features help you keep your remote team members connected.
The ease of integrating third-party apps such as Google Drive and Dropbox turns Proofhub into a central place where all the work happens. However, Proofhub may not fit small teams in terms of cost. Also, you don't want to spend too much time understanding a platform before getting some benefits from it. Proofhub doesn't offer a budgeting function or option for recurring tasks.
Pros
Free trial
Easy task management
Cons
Clunky UI
Complex forms
Limited functionality
Pricing
Ultimate Control: $89/ per month
Essential: $45/ per month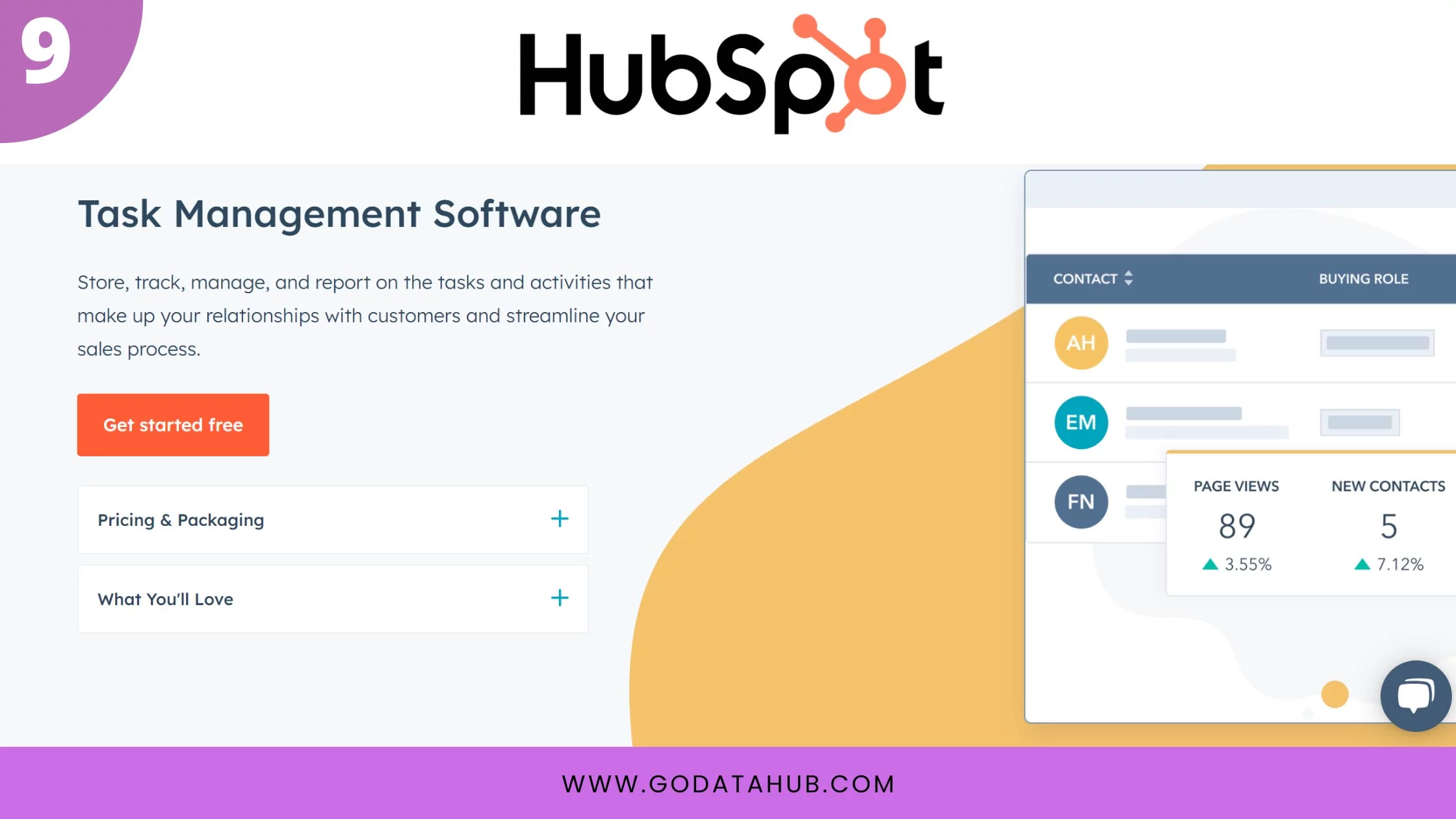 HubSpot is a big name when it comes to work management, marketing, and automation tools. HubSpot Task Management is their task management tool that comes with a set of good features such as a CRM suite and ease of creating workflows and scheduling tasks. With a great focus on integration, HubSpot makes it easy for teams to integrate other apps and software.
Again, like other tools we've just mentioned, HubSpot Task Management has a learning curve. While the free version allows you to use some of its features, more advanced task management features come with a price tag.
Pros
Automation
Integration
Customer support
Cons
Complex
Expensive
Weak tasks menu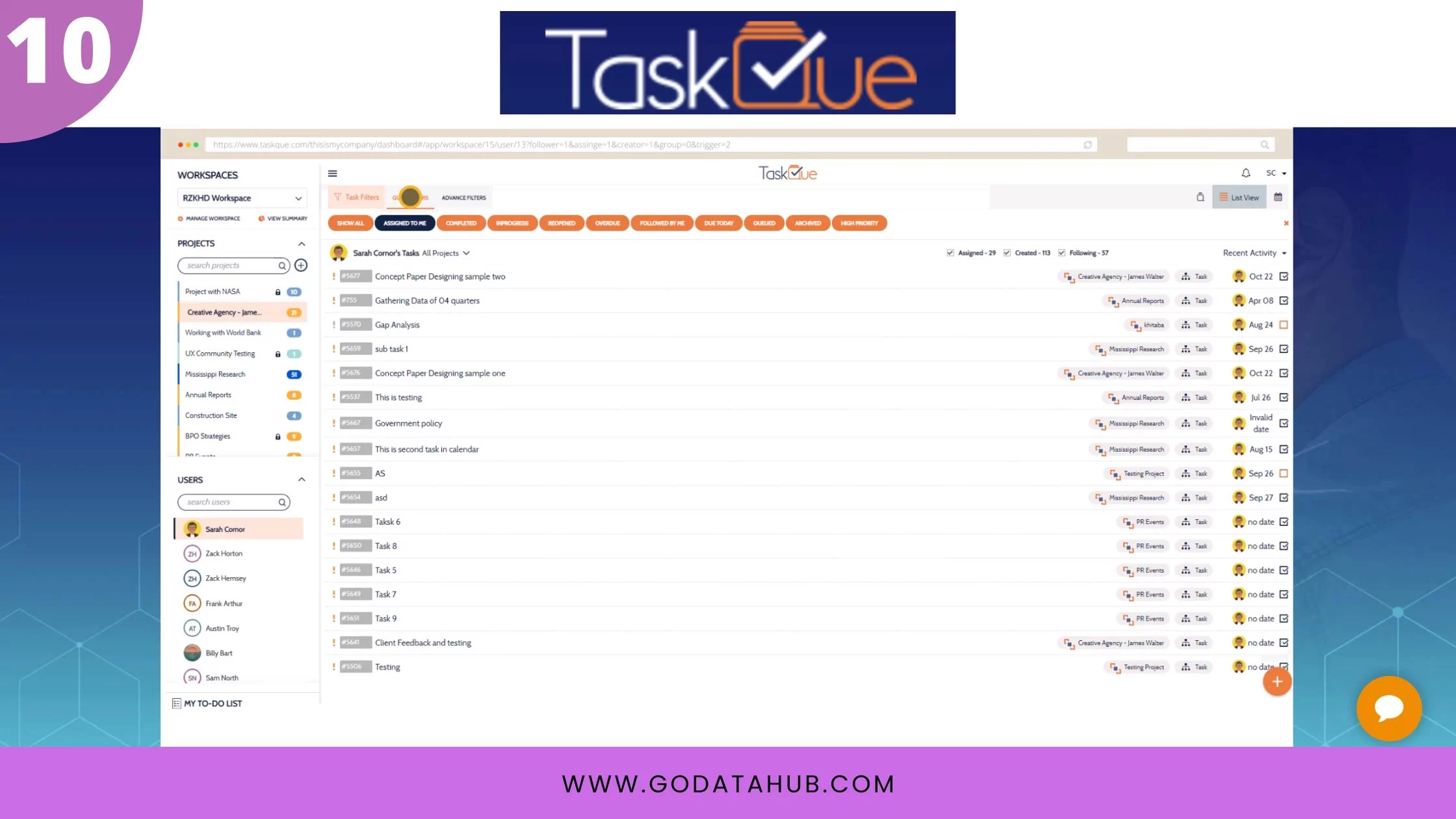 TaskQue is a web-based task management tool that offers pretty basic features such as to-do lists and auto task assigning to team members. It also allows teams to communicate and collaborate.
TaskQue, however, only works with a limited number of apps. It doesn't have time-tracking features which can make it hard for you to see how much time your team is spending on a particular task.
If we look at the overall appearance and features of TaskQue, it doesn't feel refreshing or lacks functionality that excites users. On top, some of the features are missing that you can get in other systems at the same price.
Pros
Good customer service
Collaboration tools
Cons
Limited features
Expensive
Learning curve
Pricing
Basic: $0 up to 10 users
Free trial: 60 days
Business: $5/ per user/month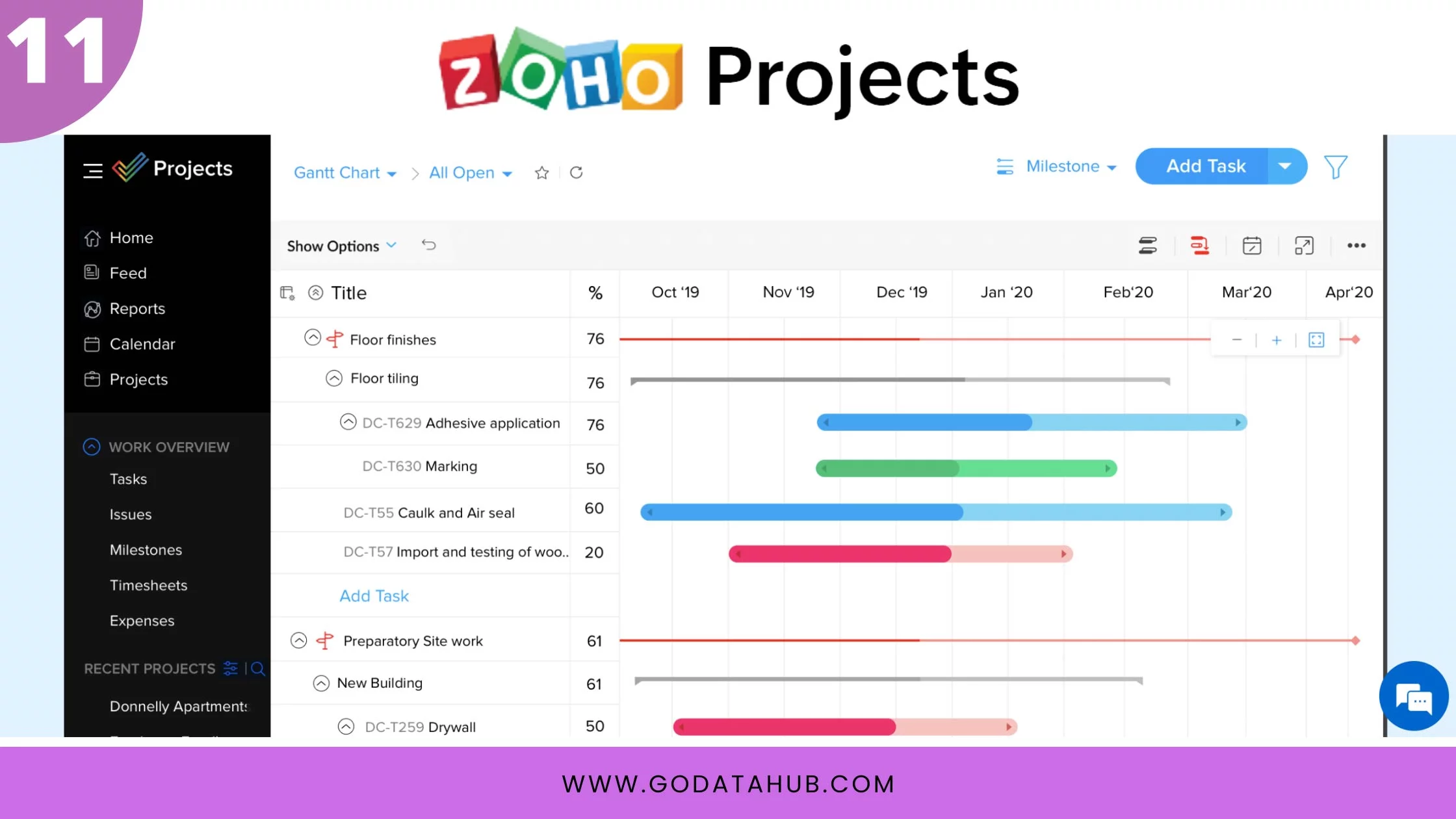 We said this list would be a top 10, but we didn't feel quite right unless we included a notable mention: Zoho Projects. It's one of the most popular task management software that is widely used by small and large teams.
Why? Because it offers the ease of use and rich functionality of a project management tool that you need to take care of your projects and tasks effectively. Another good thing about Zoho Projects is that it comes with a fair price.
However, it's important for you to get a broader overview of Zoho Projects before selecting it for your task management needs. Just like any other popular project management software, Zoho Projects can be overwhelming for users who haven't used complex work management tools. While occasional bugs and glitches are common, your team may have to face a steep learning curve in order to master Zoho Projects and make the most out of it.
Pros
Collaboration tools
Reporting tools
Task customization
Cons
Too complex
Inefficient task and time tracking
Steep learning curve
Pricing
Free: up to 3 users
Premium: $5 per user/month
Enterprise: $10 per user/month
Notable disadvantages of leading task management software
We have highlighted 11 of the most popular task management software available today in the market. You probably have noticed that most of them have some common disadvantages for small teams and businesses. For example:
1. Lack of communication and collaboration features
As we discussed earlier, seamless communication is an essential feature of any productivity-driven team. If your team has to use two separate software, one for task management and the other for collaboration, that will make their work more cluttered. So, ideally, you need to have a task manager that allows your clients and teams to keep track of their communication while simplifying task management.
2. High cost
Another major con we encountered is the high price tag. For example, Wrike costs you $24/per user/per month. Likewise, Asana can cost up to $30.49 /per user/per month when billed monthly. Let's say you have a team of 10 employees that need a task management tool. Your monthly cost could be around $300 /per month. Therefore, make sure to choose a platform that offers flexible and affordable plans for small businesses.
3. Steep learning curve
Most of the leading task management tools have a steep learning curve. Teams have to learn a lot about the software before using it properly. Small businesses usually don't have the time or resources to train workers. So, try to find a tool that is easy to use and intuitive.
4. Automation
While some of the software lets you automate and streamline your tasks, others offer no such feature. Task-managing apps that offer automation are not only expensive but also complicated. Consider implementing a tool that enables you to automate menial daily tasks with ease and speed.
Which is the best task manager?
Global Office Data Hub is the most affordable task management software that resolves all of your long-standing task management challenges. A simple-to-use tool with a broad range of features makes task management super simple, easy, and affordable for your teams and clients.
Here are the top 5 things you can do with GODH and this is what makes GODH a powerful task management solution for small businesses as well as large teams:
Set and monitor tasks
Control communication
Manage your team
Delegate responsibilities
Set appointments